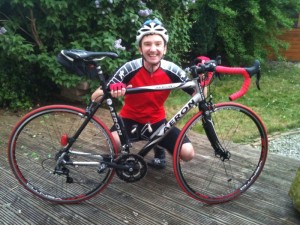 I hinted at this coming up in my last posting but I didn't want to steal the thunder away from what is also a great and tough charity event.
On the 24th May I set off to cycle the length of Great Britain from John o' Groats at the NE tip of Scotland to Land's End at the SW tip of Cornwall, a distance of roughly 900 miles.

I was invited by two friends, Sean Conway and James Ketchell (who is using this trip as prep for a world circumnavigation by bike getting underway in under two months time). to do this back in January; only to make things extra tough we decided in the spirit of these tough times we should aim to ride it in one week, unsupported by a vehicle and on a budget on the road of less than £100 each (none of which comes out of your donations).
I've wanted to take on this classic long-distance ride but have always thought it best to do it either reasonably quickly or very slowly and incorporate it into a documentary. I prefer not to use a support vehicle as I think it feels like cheating in some way: when you've set out on a journey under your own steam as it were I think it's best to keep it that way. It also keeps the costs down: a support vehicle there and back will use £500 + of fuel alone.
To keep within budget means wild camping for most if not all nights and eating cheap and cheerful high calorie food.
With any challenge like this I thought it would be a waste if I didn't try and raise some money for charity too hence I am dedicating it to my best mate for many years, Gareth, who died at the end of last year after complications following a seizure in his sleep. He was only 34.
Gareth was always up for doing something crazy. Given he sadly passed away due to suffering with epilepsy I'd like it to help those who do and will have this condition. Therefore I'd really appreciate it if you'd dig deep and donate to the
Epilepsy Society.
It doesn't matter how large or small it is. Everything helps.
JustGiving Page for Epilepsy Society Donations
We aim to be in Lands End by 30th. If you're along the way please do say hi or even ride with us for a section. We also won't turn down the offer of a shower to use or indeed a floor/sofa to sleep on!
I'm currently working on getting all the kit together – including a more portable and light-weight camera to shoot stills for a cycling magazine and video for diary updates and a short doc on the trip. Days one and two have been roughly mapped out from then on we'll map more day to day.
Here's what you get if you just plug to the start and end point into Google Maps: Google Maps suggested bike route
Please look back in the coming days for more updates!